Spin art machines & cotton candy machines can be set up easily in your home on a table.   Check availability at Kangaroo Rental and Best Bounce Around and Bremar Rental.

Sand art tables with multiple sand colors, glass, bottles + staff clean up available at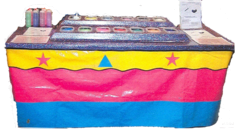 Airbrush tattoos and caricature artists brighten up a snowy day.  Check out Innovative Inflatables  for availability.